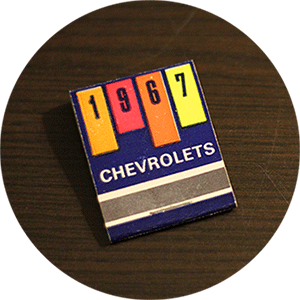 Wednesday, September 03, 2014. My dad and I were on a road trip, travelling back home to London, Ontario, Canada after visiting family in Smithers, British Columbia. Up to this point we'd traveled 3229 kilometres over six days. We stopped for lunch in a place called Albert Lea, Minnesota. We then ventured into Northbridge Mall to walk around a bit before hitting the road again. It was pretty dead. There wasn't much there. The only place that caught our eyes was Bob's Buttons & Farm Toys, so we went in and took a look around. There were a lot of toy tractors, but eventually I came to a few trays of vintage matchbooks. My eye stopped on one. 1967 Chevrolets. It was its design that I fell in love with. The simplicity, the blocks of colour, and the unique effects of offset printing. So I bought it. For $1. And the rest is history.
Since that day, I have been collecting old matchbooks. I was ecstatic the day I found out there was a name for this sort of thing. Phillumeny. Defined as the hobby of collecting different match-related items. Matchboxes, matchbox labels, matchbooks, matchcovers, matchsafes, etc. This makes me a phillumenist. I wanted to organize and share my collection, thus 'phillumenation' was born. A place to celebrate these tiny canvases and beautiful design from an era where things were made by hand, not just by a computer. A place where I, and hopefully others, can geek out over handlettering, colour schemes, and graphic design in general.
Welcome to my collection.